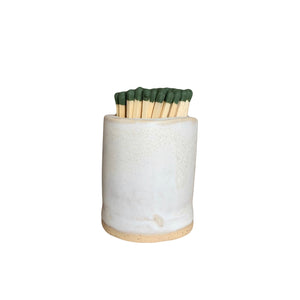 Handmade ceramic match stick holder
Our match stick holders are the perfect thing to hold your matches! You will want one in every room... wherever you have candles! They hold a generous amount of matches, and you can strike the match on the bottom of the cup. So functional, and yet so beautiful!
You can also use it to hold toothpicks or cotton swabs.
Because they are handmade, each will vary slightly, and therefore make a wonderful one of a kind gift!

Matches not included.
Please note: only "Strike Anywhere" matches will strike against pottery.
1.75 inches tall
1.75 inches in diameter